The first positive energy tower in Normandy will be built in Le Havre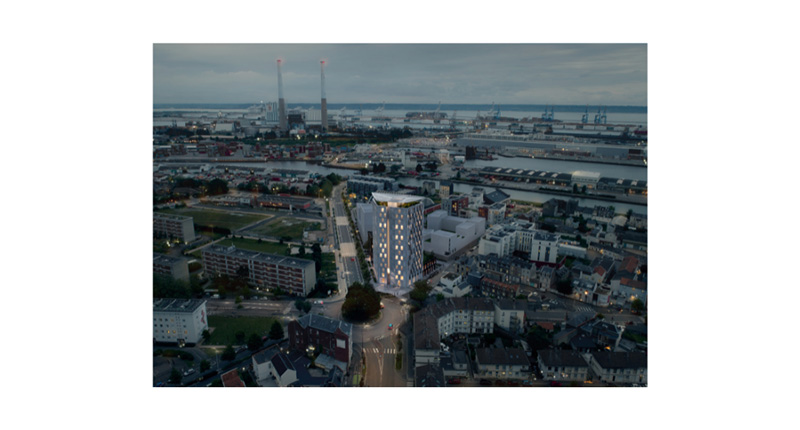 The City of Le Havre is going to give up a piece of land in the Saint-Nicolas district for the construction of a 15-storey residential tower which must produce more energy than it consumes.
74 positive energy homes
Le Havre will soon have on its territory the first positive energy high-rise building in Normandy. On Monday, March 7, 2022, City Council authorized the transfer of a 1,256 sq. m. parcel of land2 to the north of the Dumont-d'Urville ZAC (Saint-Nicolas district) for the benefit of the SCCV Tour Elithis Le Havre for the construction of a 74-unit positive energy demonstration building and a commercial space on the first floor, for a total floor area of 4,482 m2.
The 15-story tower is designed by the architectural firm Coldefy & Associates to produce more energy than it consumes. The production of solar energy combined with a very advanced design of its insulation must allow to cover the needs in heating, domestic hot water and the electric consumption of the occupying households.
Zero energy bills for residents
With this project, the Elithis real estate group pursues the objective of obtaining a zero energy bill for the building's inhabitants, by placing them at the heart of the energy management system through digital and home automation.
The building will be topped by a large pergola on the 15th floor that will function to support solar panels and host a sharing and meeting space for residents.
Work is scheduled to begin in early 2023, once the urban planning procedures have been completed.
Dumont-d'Urville, a new district between the city and the port
The creation of this "signal" tower, with its remarkable architecture and innovative technical features, marks the entrance to the brand new Dumont-d'Urville district, which will eventually house a "sports-health" campus, a health center, an EHPAD and 485 housing units (including 150 students)The project will complement the already existing "Hangar Zero" third-party space and the A Docks university residence.
All of the land in this concerted development zone (ZAC) is now sold or under promise of sale.