Catella, in partnership with Elithis, launches the world's first "positive energy" impact residential fund to invest in Elithis Towers.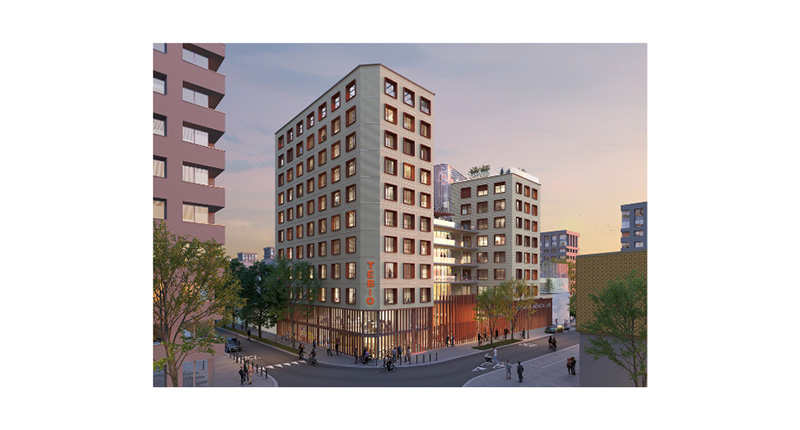 Berlin-based Catella Residential Investment Management (CRIM) is launching the world's first "energy positive" residential impact fund. It will invest an expected 500 million euros in the acquisition of Elithis towers designed to produce more energy than the building and tenants consume. These towers, developed by Elithis Groupe, combining the expertise of a sustainable building engineer with that of a real estate developer, offer both carbon neutrality during their operation and affordable rents thanks to the almost total elimination of energy bills for domestic use, thus increasing the annual purchasing power of each household.

The new "Catella Elithis Energy Positive Fund" (CEEPF), is qualified as a "dark green" impact fund, the highest level, according to Article 9 of the European Union's Sustainable Financial Reporting Regulation (SFDR). The first Positive Energy Buildings of the Fund are located in Bordeaux, Clermont-Ferrand and Nancy. Twenty additional sites have been identified, for example in the cities of Mulhouse and Brest, as well as in the Ile-de-France region. Other European cities are targeted in Germany, the Netherlands and the United Kingdom as part of a vast 10-year investment program for a total investment volume of 2 billion euros for the acquisition of 100 Elithis towers across Europe.
"Our new impact fund in partnership with Elithis is a world first for Catella. These towers exceed the EU's net zero carbon target for 2050 operationally by using technologies today that make them energy positive upon completion while being standard cost to build. Residents benefit from a substantial reduction or wiping out of their home energy bills which makes the effective rents of the apartments more affordable than the rest of the neighborhood (about 5% to 10% less on average). This is particularly relevant with soaring energy prices in Europe. Elithis towers are the "decarbonation and societal equity reference of the future" for the market Europeanof residential investment. With this new fund we want to bring together like-minded investors. The Fund could be a catalyst for the sustainable transformation of our cities," said Xavier Jongen, Managing Director, CRIM.

Catella Residential IM has already invested in the acquisition of two positive energy Elithis towers in Saint-Etienne and Dijon; the first on behalf of its "Catella III European residential fund" and the second with an institutional mandate.
Each Elithis tower cleverly integrates solar energy production by covering the roof and part of its facades with photovoltaic panels (BIPV). It also relies on bioclimatic principles such as optimizing the building's surface area to limit heat loss in winter, capturing the sun's rays in all seasons to maximize solar energy gains, and managing interior temperatures through automated solar screens and natural ventilation systems. The objective is to reduce costs and environmental impact. But it is the "human factor" that really brings the Elithis model to new levels of environmental sustainability. Residents can indeed control the temperature of their home thanks to an intelligent application, " smart App " Aladhun " developed by Elithis, which gives them personalized advice to optimize their consumption. Behavioral psychology then comes into play, as tenants can minimize their energy bills and earn an annual bonus, paid through the sale of excess electricity from the building to the grid, by managing the energy efficiency of their units. This overcomes the fundamental problem of residential real estate being the largest source of carbon emissions globally in terms of operation and construction. With this device, users can consider their home as a source of profit and therefore adapt their behavior to maximize energy efficiency and thus increase their purchasing power.
"Our design model for the Elithis Towers combines, for the first time, carbon neutrality and 100% renewable energy production with the maintenance of affordable rents, without affecting investors' returns, so that everyone wins and our planet with. This model provides a scalable ESG solution on a global scale to address the two biggest crises of our time: climate disruption and growing social inequality through devastating or geopolitical events. Our partnership with Catella in this new impact fund offers investors the opportunity to get a head start in residential real estate with this new asset class. The solution we are formulating is all the more impactful as it is directly or indirectly addressed to the 8 billion people who inhabit our earth. " Thierry Bièvre, President & Founder, Elithis Group.
The world's first replicable positive energy residential tower was developed by Elithis in Strasbourg, France in 2018. In the 4 years of operation, it has achieved an average annual surplus of energy production over consumption of 8%. This performance allows a French household to save an average of 1 600 € per year in energy bills. Extrapolating to each rental property in France, Catella estimates that the total savings would be equivalent to the entire French education budget, i.e. 6% of the French GDP, or approximately 145 billion euros in 2021.
"We are delighted to be working with Catella again as Alternative Investment Fund Manager (AIFM) and to provide all regulatory services such as distribution, valuation, portfolio and risk management on an ambitious and innovative ESG real estate development product. Catella's new impact fund, in partnership with Elithis Group, addresses the challenges of climate change and the growing need for affordable housing in cities through a revolutionary energy positive design. This carbon-neutral design is the future of affordable and sustainable residential housing in Europe and is replicable and scalable, offering an ESG solution globally. Vistra welcomes this initiative, as it fully aligns with our corporate values of "Doing the Right Thing", while enabling investors to deploy resources in an accelerated transition to sustainable investing, in line with EU regulations. "says Jan Vanhoutte, Managing Director, Vistra Fund Management.
BBC StoryWorks: The World's First Energy Positive Residency:
https://www.bbc.com/storyworks/building-communities/the-worlds-first-energy-positive-residency
INREV ESG Case Study: The World's First Energy Positive Residential Tower:
https://www.catella.com/en/germany/news-and-press-releases/press-releases/2022/elithis—inrev-esg-case-study-the-worlds-first-energy-positive-residential-tower
About Elithis Group :
Based in Dijon, Elithis is a French consulting and engineering group for building and real estate development. Pioneer in low-carbon and positive energy buildings, Elithis is one of the main actors in the fields of consulting and engineering in building, sustainable development, energy, carbon and environmental efficiency.
With more than 25 years of experience, more than 100 employees and 2500 projects in the last 10 years, Elithis has a long experience in assisting companies in the construction and real estate sector by proposing sustainable, competitive and innovative solutions, adopting a holistic approach and guaranteeing increased energy savings on their construction and renovation projects.
Press Contacts Elithis:
Claire Cauchetier, Brand and Development Director
Tel: +33 (0) 6 26 28 18 10, Email : claire.cauchetier@elithis.fr
About Catella Residential Investment Management GmbH (CRIM):
Catella launched its first European residential fund in 2007 with a volume of 1.7 billion euros. The team also launched the first European fund dedicated to student housing in 2013.
CRIM is a subsidiary of the Stockholm-based Catella AB group and its residential real estate activities include portfolio management, acquisitions, sales and asset management. CRIM manages and advises several funds and mandates and has assets under management of more than 6.0 billion euros across 11 European countries.
Bellier Financial
Steve Hays: steve.hays@bellierfinancial.com
Emma Villiers: emma.villiers@bellierfinancial.com
T: +31 (0) 20 419 09 01
About Vistra
As a global corporate services provider and fund administrator with more than 5,000 professionals in over 45 jurisdictions, Vistra enables legal entities around the world to work more efficiently, grow faster, act responsibly, protect their capital and expand across borders by reducing risk and improving performance.