The first positive energy social housing, with Elithis Immobilier in Dijon.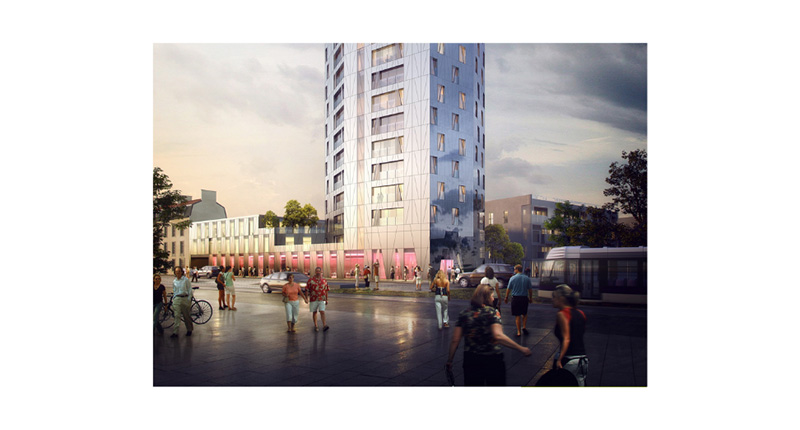 In Dijon, Elithis has signed with TONUS TERRITOIRES and HABELLIS the VEFA of the "Avenue 6" project of 51 low-cost, positive energy housing units. The building, which will be built on a plot of approximately 2304 m² and spread over 3 floors, was designed with the firm Arte Charpentier, at standard construction costs.
Avenue 6, a positive energy building, will produce more energy than it consumes, thus allowing its inhabitants to have an energy bill close to zero and thus a significant gain in purchasing power and comfort.
Avenue 6 performs on all levels with :
– Environmental and energetic qualities which did not exist until now in social housing: Integrating renewable energy in social housing while drastically reducing the energy consumption of the building, this is the real feat achieved by the Elithis Solutions teams. The building will produce more energy than it consumes. The surplus energy will be sold back to the condominium, thus offering a gain in purchasing power to its tenants.
Avenue 6 is in the process of obtaining NF HABITAT certification and also BEPOS EFFINERGIE 2013 certification, which is one of the most demanding labels. Indeed, the energy consumption of the building is 1.5 KWh/m²EP compared to a maximum consumption of 80 KWh/m²EP imposed by the RT2012, i.e. 50 times less.
– More comfort and well-being: The building's energy performance will allow tenants to drastically reduce their energy consumption and thus increase their purchasing power.
Each unit will have a balcony or loggia. A hanging garden will offer a magnificent view of the city as well as of all the tree-lined spaces of the Arsenal eco-district.
– Controlled construction costs: The innovation, which is the DNA of Elithis, allowed the engineers of Elithis Solutions to conceive a building which integrates outstanding energetic performances with construction costs equivalent to those of the traditional park and without additional subsidy.
– Support from the Banque des Territoires for the construction and acquisition of social landlords:
It is thanks to the mechanism of dismemberment that its subsidiary "Tonus Territoires" was able to acquire from Elithis the bare ownership of Avenue 6. The temporary usufruct of the properties was transferred to the HLM company Habellis. It is thus this one which will ensure the rental management of the property during 15 years.
For Thierry Bièvre, President-Founder of Elithis, "Twelve years ago, we demonstrated that designing and building a positive energy office building was possible. Three years ago, we did it for housing in Strasbourg. I am proud of my teams, they demonstrate through this project, at no extra cost to the social landlord, that positive energy is now accessible to all. We hope that other social landlords will seize this new opportunity. With its experience, Elithis Immobilier is ready to accompany them.
"I am delighted with our participation in a high environmental quality operation in an emblematic building complex for Dijon" adds Christophe Caresche, CEO of Tonus Territoires.
For Béatrice Gaulard, General Manager of Habellis: "Habellis, anxious to participate in the virtuous production of social housing in Dijon Metropole, took part in the project proposed by Elithis, with enthusiasm and responsibility. Responsibility because the 51 units built will result in lower bills for the tenants. This solvency through an optimized cost of charges, combined with an architecturally rich project, is one of Habellis' objectives, with priority given to thermal and environmental comfort for its clients. Enthusiasm because this project is part of a second objective for Habellis: to innovate to provide access to quality affordable housing. To make this possible, we have devised a new legal and financial engineering approach. At the time of conception (4 years ago), the usufruct arrangement was the first one we were working on, on an experimental basis, with Tonus. Habellis is pleased with this collaboration, which led to the signing of this contract, for better service to its tenant clients."
For Arte Charpentier, "The fruitful collaboration between Elithis and Arte Charpentier is nourished by innovations shared between architects and engineers. It is the perfect illustration of the successful marriage between virtuous technical prowess and sustainable and innovative architecture. With Avenue 6 and Arsenal, we are taking another step forward with Elithis, moving from a positive energy building to a positive energy block. The architecture of Avenue 6 follows the curved shape of the block, which gives a great harmony to the whole. Along the curved façade, we designed a large breakthrough on three levels, including a landscaped garden. We are pleased to have applied the same architectural requirements to the Avenue 6 social buildings as to the Elithis Arsenal tower. Ambition and innovation must be beneficial to all.completes Antonio Frausto, architect.
About Elithis Group :
Based in Dijon, Elithis is a French engineering and real estate group, among the leaders in energy efficiency and environmental performance.
The subsidiary Elithis Immobilier accompanies real estate investors in the construction of buildings with high energy performances as well as in the renovation of their assets, by proposing them innovative, sustainable and competitive solutions. Elithis employs more than 150 people worldwide and has developed more than 2,500 projects in the last 12 years. The first building of Elithis is an office building of 5000 m² completed in Dijon in 2009. A world first whose environmental characteristics are 30 years ahead of the European regulation on carbon emissions. In 2018, after launching an international architectural competition, Elithis imagined the Elithis Danube Tower in Strasbourg, the world's first positive energy residential tower. The building has demonstrated remarkable energy efficiency over its first three years of operation.
Elithis Solutions brings, as for it, advices and expertises to the actors of the construction and the renovation of the building which it accompanies.
Press contacts :
Isabelle d'Halluin Communication
idh@isabelledhalluin.com
06 03 00 88 48 / 06 45 28 67 25